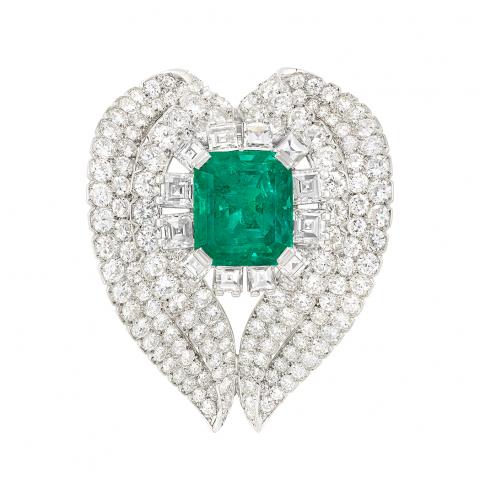 Throughout the decades, some of the most famous jewelry houses have shaped the industry through motifs and trends that are still relevant and important today.
As a designer, the amount of creativity and inspiration that can be attained through admiring these jewels is incomparable to any amounts of Pinterest boards or Instagram posts seen. To this point, you can imagine my excitement when news of an upcoming auction of Important Jewelry will be taking place at Doyle's auction house in New York City this October. 
The auction will feature amazing jewelry by the world's most prestigious makers including Cartier, Van Cleef & Arpels, David Webb, Buccellati, Bulgari and Tiffany & Co. The pieces included in the auction will vary within eras, spanning the Antique, Victorian, Edwardian, Art Nouveau, Art Deco and Modern eras. 
From invisibly set Van Cleef earrings to a pear-shaped diamond, approx. 5.01 carats, D color, VVS2 clarity; the auction proves to be both exciting and incredibly inspirational. 
Just as a fashion designer may find inspiration from digging through the archives of old fashion houses look books, I find myself both creatively stimulated and in awe of these vintage jewels. To be able to see these pieces in person is an incredible luxury of living in New York City. 
SCD's Top Picks:
18k Gold, Ruby and Diamond 'See No Evil, Hear No Evil, Speak No Evil' Monkey brooches 
18k Gold, Platinum, Turquouise, Gem-set and Pearl brooch; Cartier 
Invisibly Set, Rectangular, Fancy-shaped Sapphires totaling 39.79 ct. and 12 Round Diamonds; Van Cleef and Arpels
18k Gold Fringe Earrings with 38 Coral beads and 38 Round Diamonds; Aletto Brothers
22k Gold Bangle with Emeralds
18k Gold, Bronze, Pearl, Diamond and Cabochon Gemstone Brooch
xx SCD 
http://doyle.com